Our values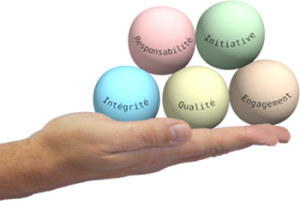 At Dynamics International, we believe that an ethical relationship is key to gain and keep the confidence of our investors, employees, partners and customers.
Honesty and integrity are key dimensions for us, particularly within the relationship around our projects.
We choose to implement our solution through the manner the most adapted to customers needs, in order to guarantee the fact that the customer get the best Return on Investment (RoI) for his project, and can decrease its Total Cost of Ownership (TCO).
We strongly believe that a high level quality of service provides an increase of values for our customers, that is why we hire highly motivated and high level profiles, in order to ensure our ability to overachieve customer's expectations on each project.
We strongly encourage our team to refine its expertise and frequently organise training sessions on new technologies.
We encourage every single effort or initiative on the improvement of our global or their personal delivery quality.
Commitment and responsibility are values deeply anchored within our culture and history.
We appreciate our job and it is a key element to reach excellence on our missions.
For these reasons, our customer satisfaction rate is quite high. As per an independant TNS survey conducted in July 2015, 98% of our customers are satisfied with their relationship with our resources and would recommend them.
Responsabilité

Initiative

Intégrité
Qualité

Engagement

Transparence
TEMOIGNAGES CLIENTS
Nos clients sont meilleurs ambassadeurs :