NAV partners network
Dynamics International allows its customers to optimise the deployment of their local subsidiaries ERP solution (in terms of cost, strategy, quality and methodology), through particularly the selection of the best fitting local partners.
Covering more than 80 countries, this network of partners, allows Dynamics International solution customers to access to services provided by efficient and reliable local partners. Within these countries, recommended partners will often be part of the best local partners.
Every partner has an expert knowledge on the local NAV localisation within its country, whatever the version is, and can also sometimes be in close contact with Microsoft regarding the support of this localisation.
Nowadays, the total number of existing localisation is around 60+ worldwide.
Regarding the local setup, needed to comply with the local regulatory, it will be managed by functional resources of these local partners.
Then, feel free to contact us in order to improve your Group multi-country ERP project, with our help and the help of our local partners.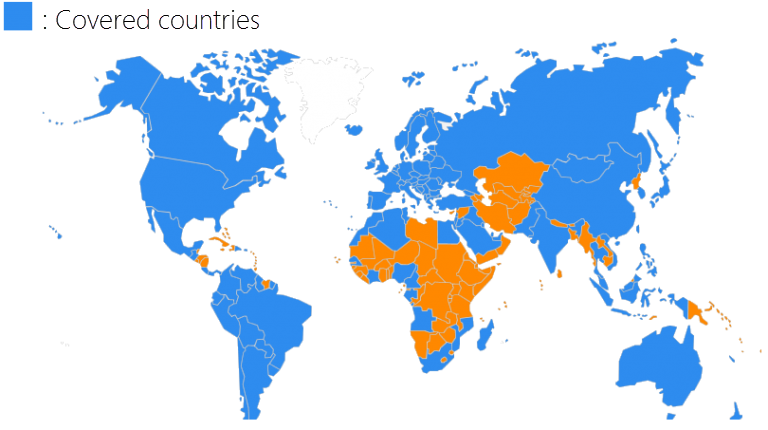 –
–
–
–
–
Covered countries :
Canada

United States

Mexico

Guatemala

Costa Rica

Panama

Barbados

Bolivia

Colombia

Venezuela

Peru

Argentina

Brasil

Chili

Saudi Arabia

Dubai

Bahrain

China

Malaysia

Singapour

Indonesia

Vietnam

Philippines

Thaïland

Taïwan

India

Japan

South Korea

Sri Lanka

Laos

Cambodia

Mongolia

Australia

Angola

Mozambique

Cape Verde

Senegal

Cameroon

South Africa

Congo
France

Spain

Portugal

Italy

Switzerland

Germany

Austria

United Kingdom

Netherlands

Belgium

Denmark

Sweden

Norway

Finland

Iceland

Poland

Lithuania

Latvia

Estonia

Czeck Republic

Hungary

Slovakia

Slovenia

Croatia

Romania

Bulgaria

Serbia

Greece

Ukrain

Belarus

Russia

Turkey

Marocco

Algeria

Tunisia

Israël

Lebannon

Egypt

Irak

Pakistan
TEMOIGNAGES CLIENTS
Nos clients sont meilleurs ambassadeurs :