Bureau Van Dijk Electronic Publishing
Customer case
---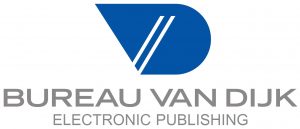 Specialist of the commercial and financial information of 100+ Million of companies worldwide, Bureau van Dijk is currently located within 32 countries and is well known for its range of financial analysis tools and economic intelligence, published in relationship with the largest information providers.
Created in 1991, Bureau van Dijk employs 550 peoples in order to propose its customers some tools allowing them to cross information provided by various data sources, and to create links between them.
–
–
–
Project approach
---
Initially equipped by a local Belgium solution, the Group wanted to purchase a unique and central solution allowing him to manage centrally the bookkeeping of its 28 subsidiaries, through a 10 people team.
The choice has quickly defined Microsoft Dynamics NAV as the preferred Global ERP solution, due to its geographical coverage, to its ability to manage intercompany postings and to interact with Group business solutions.
Moreover, the Dynamics NAV solution, through its multi-localisations features, provided an adapted answer to European countries regulatory, as an example, the monthly VAT declaration manage directly within Microsoft Dynamics NAV (formerly known as Navision).
With this setup, the solution allows the countries consolidation and reporting, within a single NAV database.
The deployment has been managed in a very short period of time (4 months for all the countries in the scope).
The main issue has been the complex management of the multi-currencies function within an international context, between the headquarters and its subsidiaries. Regarding this issue, the NAV multi-currencies features have solved efficiently these key functions.
–
–
Implemented countries
---
​
​
| | | | | |
| --- | --- | --- | --- | --- |
| | | | | |
| South Africa | Germany | Argentina | Australia | Austria |
| | | | | |
| Bahrain | Belgium | China | South Korea | Denmark |
| | | | | |
| Dubai | Spain | United States | France | Italy |
| | | | | |
| Japan | Mexico | Netherlands | Portugal | UK |
| | |   | | |
| Russia | Singapour | Sweden | Switzerland | Brazil |
| | | | | |
| | Slovenia | Hong Kong | Mexico | |
–
Particularités du projet :
28 implement countries

NAV version : 2016
Scope : Accounting / Finance

Interface with business solution
TEMOIGNAGES CLIENTS
Nos clients sont meilleurs ambassadeurs :